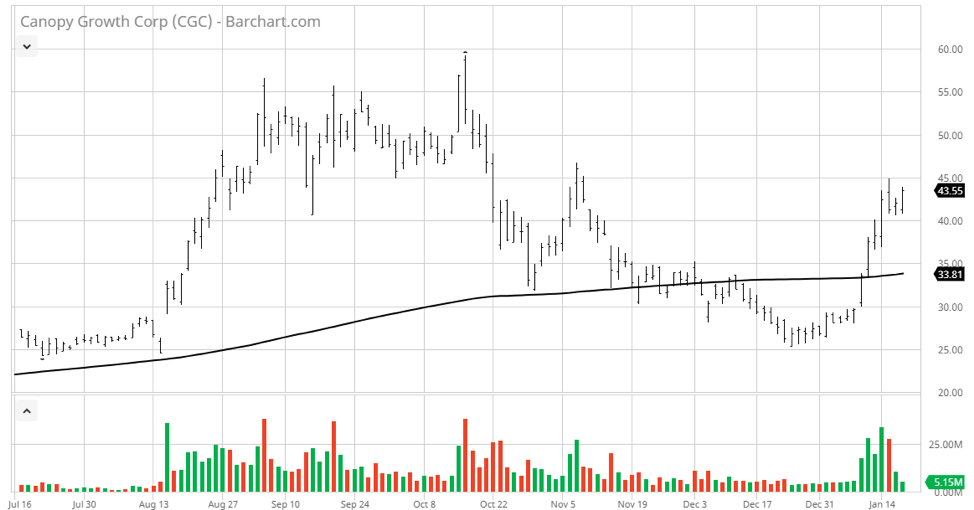 Smokin' Pot Stock
RoboStreet – January 17, 2019
More Smoke and Fire from the Pot Sector
As the stock market in its fourth week of recovery, there is a lot of talk of all the overhead technical resistance that has to be cleared out in order for the primary uptrend to be re-established. For the most part this is true. The S&P 500 tumbled hard after violating 2,640 to the downside and bottomed at 2,350 before making its way back to its current level of 2,620 where the downward-sloping 50-day m.a. sits.
I expect a short-term tug-o-war between the bulls and bears at this level, where if the bulls win out, would prove rather significant. V-bottoms that are not retested at some point are rare, and I'm of the view that against the macro uncertainties, there is a good chance a retest of some measure will occur, the timing of which is unclear. Headlines relating to the China trade situation, the government shutdown and earnings/guidance in the next couple of weeks will dictate the near-term direction for the market.
Regardless of the mental gymnastics of staying on top of the 24/7 news cycle and the feedback loop generated by the competing narratives, investors should look for new secular trends in their nascent stages that are investible. Heading into 2019, it's hard to argue with the theme of marijuana becoming a rapidly growing element of society, both from a medical and recreational experience.
---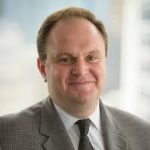 "I'm investing my own money in each and every stock as my AI platform identifies." 
And remember we're not talking about day-trading here.  I'm looking for 50-100% gains inside of the next 3 months, so my weekly updates are timely enough for you to act.
---
Right, wrong or indifferent, the growing wave of legalization has opened the doors to high-grade marijuana making it into American society in the form of CBD medical therapies, edibles, beverages, smoking venues and hemp. It's hard to know what the long-term effects of legalized weed will be on society, but there is no denying the growth prospects for the industry are compelling for the next three-to-five years.
According to data compiled by Marijuana Business Daily's Factbook, the legal cannabis market delivered revenues of approximately $6.2 Billion in 2017 and is expected to grow by more than 200% from 2017 to 2022 largely from California's huge potential market. As of January1, 2019 thirty-three states and the District of Columbia have made medial marijuana legal while ten states and D.C. have legalized recreational use. So, there is a lot of legalization runway ahead for the pot business.
Being that there are only a handful of U.S. listed stocks in the pot sector, the choices that make sense are those stocks where accumulation by fund managers and professional investors is more likely. It also makes the most sense to go with the top pot stocks that are printing headlines of new business opportunities, partnerships, licenses and new product launches.
Of the stocks that are showing up best in the sector, Canopy Growth (CGC)is displaying some very strong upside momentum this past month, trading from $25 to $43 on the back of heavy daily trading volume. The stock's recent rise has been fueled by the company announcing it will invest $150 million to build a new facility in New York for hemp production after being awarded a license this past Monday and NY Governor Andrew Cuomo calling on the NY state legislation to make recreational use of marijuana legal that opens up a huge source of tax revenue for the state.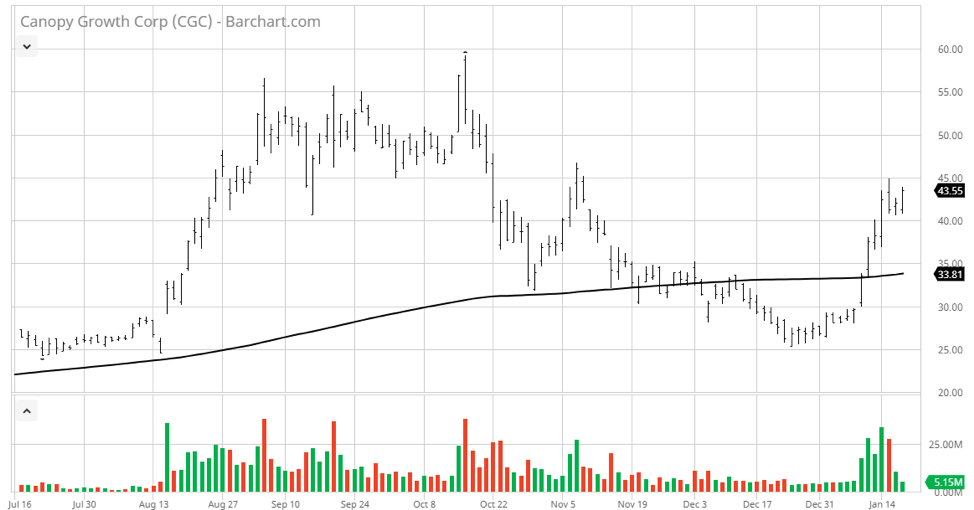 Though recreational weed use and the market for it are expected to rapidly expand, the real money where margins will be much better is in the medicinal market for pot. Canopy Growth is currently the largest medical week company on the globe and is striking new deals on an almost weekly basis. If there is one company that can scale fast into the commercial markets, it's Canopy Growth – thanks to a $4 billion war chest of cash infused by Constellation Brands.
When investing in any new megatrend sector, investors should build their exposure starting with the leader and then diversify into other companies that emerge as formidable players in the space. Canopy Growth seems to be hitting on all cylinders in being best-positioned for the future of legal medical and recreational marijuana. Plus, the stock trades like water, trading on average over 18 million shares a day coupled with a highly liquid option chain.
While the stock has jumped recently, it is volatile and subject to rapid rounds of profit taking that can cause severe price disruption. Trading and investing in CGC and other pot stocks is becoming a science and artform. My Tradespoon AI tools are beginning to show indicators of when to be in and out of these wild, but potentially lucrative stocks and as the sector matures in the weeks and months ahead, I'll be looking to provide opportunities to those subscribers to RoboInvestor – my AI choice portfolio of blue-chip stocks and ETFs I invest in personally.
I invite everyone to come alongside my investing capital and become a RoboInvestor to take full advantage of my market-tested AI platform and my select trades reserved for the RoboInvestor Portfolio. Make 2019 a great year for your AI-fueled portfolio.
---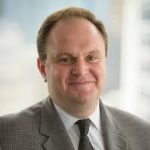 "I'm investing my own money in each and every stock as my AI platform identifies." 
And remember we're not talking about day-trading here.  I'm looking for 50-100% gains inside of the next 3 months, so my weekly updates are timely enough for you to act.
---