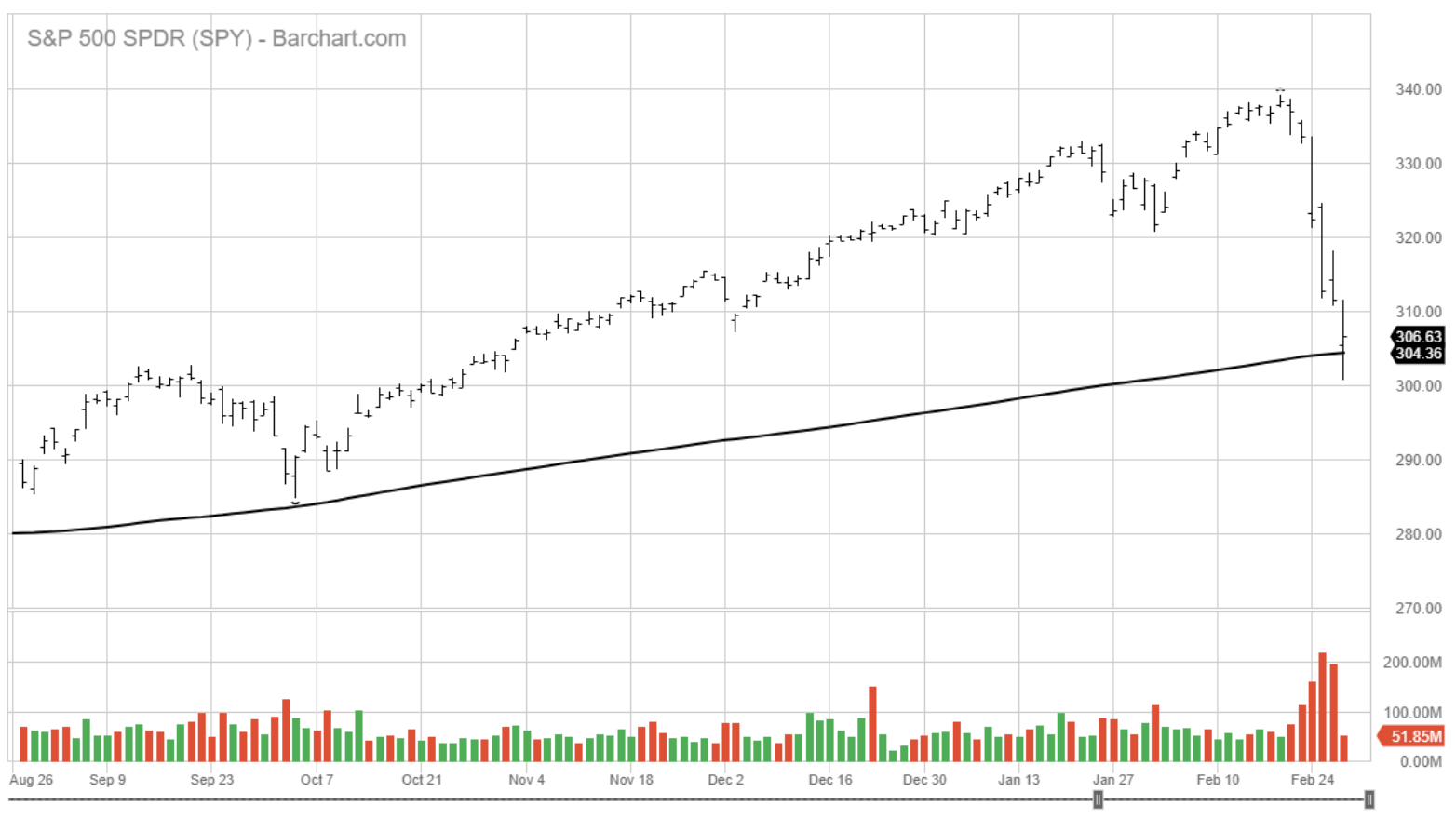 Alert! AI Indicator Signals Buy Hot Sector
RoboStreet – February 27, 2020
Feels Like Capitulation Selling Taking Over 
Yesterday's trading session had the look and feel of investors throwing in the towel on even the best of breed stocks to raise cash out of genuine fear. Sell programs triggered by negative headlines and forced-selling of stocks by index funds and mutual funds are putting heavy pressure on the market, to where the SPY has penetrated its 200-days MA at $304 and trying to find support.

The market has experienced the largest four-day sell-off since December of 2018. At this point, the market has logged a 10% correction and VIX is at extreme levels, which I have not seen since December of 2018. The past five days of selling have represented the fastest 10% correction in many years and is why investors are somewhat shell shocked. High-Frequency Trading shops and algorithm sell programs have contributed heavily to the rapid downside momentum. Even the gold and silver have sold off, which is usually indicative of the last stages of sell-off.
(Want free training resources? Check our our training section for videos and tips!)
---
 "I'm investing my own money in each and every stock as my AI platform identifies."
And remember we're not talking about day-trading here.  I'm looking for 50-100% gains inside of the next 3 months, so my weekly updates are timely enough for you to act.
---
Most corrections finish off with a bout of true capitulation, and from my experience and when my AI indicators start turning bullish following such sizeable pullback, then its time to consider if initiating and adding to positions at current levels is prudent. Our Stock Forecast Toolbox as a Model Grade of "B" for the SPY, and a six-month resistance target of $366.89 which is roughly 20% higher than where SPY currently trades.
This obviously assumes the black swan coronavirus threat is contained and shows signs of being eliminated. The situation is a very fluid situation, but yesterday's early blowoff that had the Dow down almost another 1,000 points felt like true flushing out of nervous holders of stocks. Only time will tell, but the sound of "whoosh" could be heard up and down Wall Street – and that is historically a time to do some buying.


So, what should investors take a hard look at? I think casting a net over America's best big-cap growth stocks is the best place to start. The purest play where a full 12.5% correction has occurred is in the Invesco QQQ Trust ETF (QQQ). This is a high-quality way to buy the best of breed stocks in a blanket trade that gives investors strong tech exposure to the likes of Microsoft, Apple, Amazon.com, Alphabet, Adobe Systems and Intel as top holdings.

These stocks and other leading names within QQQ holdings are institutional favorites and where the money will flow heaviest when the market rebounds. Shares of QQQ enjoyed a huge run-up off of a major upside technical breakout back in October at $195 and rallying up to $237.47 before enduring the current extreme selloff that has the stock hitting a low yesterday of $2.07.70. While a full retest of the 200-days MA is still possible down at $199, the price action is suggesting a bottom is close or already in.

The best way to know when to pull the trigger on the QQQ's and other leading stocks is to join our RoboInvestor advisory service today, while the market is groping for a bottom. Since launching RoboIvnestor back in April 2018, our members have booked 109 winning trades against only 12 losing trades for a 90.08% Winning Trades Percentage. We only recommend the top blue-chip stocks and ETFs that are the most liquid and appreciated assets by the market's biggest investors.
For 2020 year-to-date performance, we haven't booked a single loss, and while we are holding some positions that are trading below our cost basis per the current selloff, I expect our long exposure in stocks like Dominion Energy (D), Micron Technology (MU), Johnson & Johnson (JNJ), Lockheed Martin (LMT) and JP Morgan (JPM) to trade back to and through their recent highs.

2020 was set up to a be more volatile year for investors and with the market-tested success of my AI-driven platform, investors can put their capital to work with a high level of confidence. My hard-earned money is committed to every trade. No paper tigers here at RoboInvestor – we are joined at the hip with our members on all trades. Join today and let the power of my AI tools make an immediate impact on your portfolio.
---
 "I'm investing my own money in each and every stock as my AI platform identifies."
And remember we're not talking about day-trading here.  I'm looking for 50-100% gains inside of the next 3 months, so my weekly updates are timely enough for you to act.
---
*Please note: RoboStreet is part of your free subscription service. It is not included in any paid Tradespoon subscription service. Vlad Karpel only trades his own personal money in paid subscription services.  If you are a paid subscriber, please review your Premium Member Picks, ActiveTrader, MonthlyTrader, or RoboInvestor recommendations. If you are interested in receiving Vlad's personal picks, please click here.